OpenCore Legacy Patcher, after a long gestation, reached the milestone of version 1.0 recently (version 1.0.1 as I write) and now supports the recently released (26/09/2023) macOS Sonoma. This means a new life for old Macs. Using OpenCore Legacy Patcher, you can install the latest Mac systems (macOS) on older Macs. This is important because Macs older than five years are counted as Vintage by Apple, and in another two years, they're written off as Obsolete. With OpenCore Legacy Patcher, Vintage or Obsolete Macs can remain Viable for years.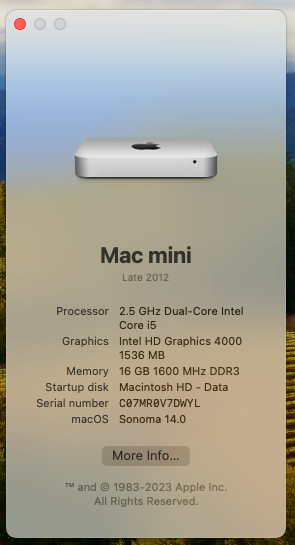 If you have a Mac released between 2009 and 2018, it can now be updated to macOS 13 Ventura or even macOS 14 Sonoma, thanks to OpenCore. There are some exceptions with specific Mac models, so it is best to check the OpenCore website to see if your model has a problem with the system you want to install. Also, the older the Mac, the more likely it is that some of the latest features in the macOS might not work. For instance, on my 2012 Mac Mini, unlocking the Mac with my Apple Watch won't work, and neither does Stage Manager. But these things are no big deal. It is best if your Mac has as much RAM as possible. Better still, the preferred hard disk would be a solid-state drive (SSD), whether internal or external.
The OpenCore website details the processes involved. But to simplify things, I offer a service to create the OpenCore macOS install media for your Mac model. It is much easier to boot from the installer and upgrade your Mac.
I also offer a full install service if you live in the visiting area I cover with my IT support service. If you want me to help you upgrade your Mac to a new system, please call 07525368812 or use the contact form below.