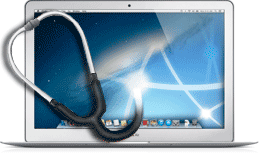 Remote Mac support can be used to diagnose hardware faults, deliver software repairs, apply updates and install new applications. Online Mac support can also be used for quick lessons to help you get things done.
So, although your first thought when meeting with something problematic on your Mac might be that it needs to be taken into your nearest Apple Store, or a visit from a techie. Perhaps all you need is some online Mac support. Please consider calling us to see if we can assist you with the minimum of fuss.
How online Mac support works
You have a problem on your Mac or perhaps you want to be guided through working with an application that you are not familiar with. You contact us, and download the connection application. After following a few on-screen instructions we will be able to see your screen just as you can. Hopefully we can then help you as if we were actually there with you. When we have done you can quit the application and we will no longer be able to connect to your Mac. 
You can call us now, and if possible we will help you right away! Better still, book an appointment in advance because it is cheaper 😉 .
Either way, we will direct you to the JumpDesktop client app, help you install it, and then, once connected we will be able to help you.
If you are happy with the support you get, you could request a more permanent arrangement, so that to make the connection all you need to do is call and let us know. This can be really useful if you want your Mac to be maintained by us in tip-top condition, or if you only want tuition in small, bitesize lessons. We find this is really helpful for regular customers, and saves them compiling a long list of queries and problems before getting in touch. It also helps us if we can solve a small problem early, before it starts to become a bigger one. 
If you have a relative to whom you have to give regular Mac support, we may be able to help you keep them online and their Mac working for them via our online support. Please let us know if we can help.