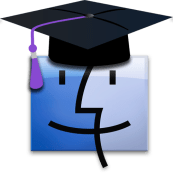 The aim of our Mac tuition is to help you become a more independent and confident Mac user. 
If you are moving to a Mac from a PC, or have not used any computer before, you may benefit hugely from getting some good grounding from the beginning. We give training at both beginner and intermediate levels.
One of the advantages of our personal Mac tuition is that Mac lessons can be tailored to your requirements. You learn by using the very files (or copies of them) that you will be working with on your own device. As far as possible we won't even touch yourMac, so that it is you that learns by doing.
Online personal mac tuition
Wherever you live and work, an online connection can be set up so we can give you mac tuition directly on your Mac.
We charge £40 for the first lesson if booked using our booking form. Thereafter we charge pro rata, and you can ring when you need to, and we will help you there and then if we can.
We hope you will find that this is an easy way to get answers when you need to know how to get something done on your Mac. And if there are particular things giving you trouble, you can call and go through them as they arise, instead of saving up a list of niggles and queries.
Online tuition is unfortunately only available for Mac users as it is not possible for iPads and iPhones.